Now that we are nearly one year into the pandemic, I thought it was time to pick up this old project. And since I am reuniting with an old hobby in a way, it is only appropriate that I select a musical with a reunion theme. The first that came to mind was Follies. So, without further ado, I will resume my sprint down Broadway once again.
Follies first opened on Broadway on April 4, 1971. It was the second collaboration for composer and lyricist Stephen Sondheim and director Hal Prince, following Company. The show's first run was a financial failure, a fact that makes its numerous revivals seem all the more miraculous. I'll admit, I have never given Follies a fair chance. I always thought it was weird (which it is) and found the combination of faux vintage numbers with contemporary 70s style show tunes off-putting. So when I saw that there were six Follies cast albums available I second guessed my recommitment to this blog. Six is a lot! But I stuck with it and I'm thankful that I did because there are some real gems here. Let's start in 1971.
The original Broadway cast recording of Follies was somewhat ill-fated from the moment Capitol Records determined that Sondheim's score should be condensed to fit one LP record. The result is a bit of a hack job. But it serves its purpose of introducing us to Sondheim's wonderful show about a reunion of the fictional Weismann's Follies. My first impression was that Michael Bartlett's Roscoe sounds right out of 1920s vaudeville, which is to say he's perfect. In fact, most performances on the OBCR are perfect, notably Dorothy Collins as Sally, John McMartin as Ben, and Yvonne de Carlo as Carlotta, whose "I'm Still Here" is the indisputable showstopper among such great songs as "Who's That Woman?," "Too Many Mornings," and "Could I Leave You?" That said, there isn't a whole lot of story after the prologue, and for a show like this that does make for a somewhat disjointed album. Still, the score is stunning and that combined with the stellar performances makes it an enjoyable listen anyway.
If the OBCR is enjoyable, the 1985 concert cast recording is a real treat! First of all, it features some real icons like Barbara Cook, Mandy Patinkin, Elaine Stritch, and Carol Burnett as Carlotta. Second, it's recorded live so you get a sense of how the audience is responding to these no doubt brilliant performances. Elaine Stritch in particular gets a laugh every time she opens her mouth, and that alone had me wanting nothing more than to teleport myself to that night at Lincoln Center so I could watch her for myself. But even just with the audio, it's easy to see why she was so great. Stritch plays old, tired, and fabulous in a way that more than works: it makes magic. And although I would choose Stritch as the standout performance from this cast, I need to mention that Carol Burnett also blew me away with her performance of "I'm Still Here." It's safe to say that after this album, the bar has been set. And it's been set high.
It's important to note that the second half of the concert cast album is not Follies. Well, not exactly. It is a New York Philharmonic recording of the film soundtrack to Stravinsky, which was also composed by Sondheim. At first glance, I thought it was an odd choice to pair the two together on the same release (and I'm still not sure why they made that choice), but there are two tracks from Stravinsky that were first cut from Follies. These are "Old House," performed in the original London production of Follies as "Country House," and "Auto Show," which appears as the bonus track "Bring On the Girls" on the 1998 Paper Mill Playhouse Follies cast album. I didn't enjoy the Stravinsky half of the album nearly as much as the first half, but I appreciate these two songs being included given that context. It's also around this point that I learned that this show was originally produced in one act. The very idea exhausts me. This is a very long score with a complicated plot. Not giving the audience an intermission is a huge gamble and I think we can at least partially blame the original Broadway production's disappointing box office on that decision.
Anyway, moving on.
The third Follies cast album takes us across the pond. The original London production opened in 1987 and the cast album bills itself as the first complete recording of the score. Whether that's accurate is debatable, as some of the songs from the original Broadway production have been replaced with new tunes. But what the London cast album does with its "complete score" works really well! This is another fantastic album with an out-of-this-world cast. It stars Julia McKenzie, Daniel Massey, David Healy, and the recently departed Diana Rigg. McKenzie in particular gives a dazzling performance of "Losing My Mind." In addition to the new "Country House," which by the way is a cute argument done in song, we have an updated version of "Loveland" that's superior to the original. And "The Story of Lucy and Jessie" has been replaced with "Ah, But Underneath," which I also like better. However, "Make the Most of Your Music" takes the place of "Live, Laugh, Love" here and I would have to question whoever made that decision. Regardless, this cast album is at least as good as its predecessor, if not even better. And the best part? No Stravinsky.
Back to the states we go, but not to New York. Instead, we're headed to New Jersey! The Paper Mill Playhouse released a cast album for its 1998 production of Follies and it's easy to see why. With legends like Ann Miller and Kaye Ballard in the cast, it would have been a crime not to record it. It's becoming clear that choosing a favorite cast album is going to be difficult this time around. Heck, even choosing which songs to highlight as favorites would be difficult as each album offers new standout performances. This time, Laurence Guittard catches my attention first with his rendition of "The Road You Didn't Take." Like the original London cast album, this version also features "Ah, But Underneath," performed by Dee Hoty. And this cast album may actually have a better claim to the "first complete recording" title than the London cast; it features eight bonus tracks of cut songs, including "The Story of Lucy and Jessie." Each of these bonus tracks is a delight and their inclusion here helps give a sense of Sondheim's creative process.
Next up, we're back on Broadway for the 2011 revival cast album. I have to say, this one was not my favorite. That's a shame, because it stars Bernadette Peters who happens to be one of my favorite living Broadway legends. My biggest gripe is with the amount of dialogue included on the album. I know I complained somewhat about the lack of coherent story in the original Broadway cast recording, but there is entirely too much story here for my taste. That said, the musical performances are incredible and it is interesting to hear how the background music was used to underscore the dialogue. Plus, Carlotta is sung by Elaine Paige. Elaine Paige! I don't need to tell you that her performance of "I'm Still Here" is spectacular. Throw in Jan Maxwell as Phyllis and its clear that this production is all about legendary divas. If this were the only Follies cast album available, it would be remarkable. As it stands, it's just alright.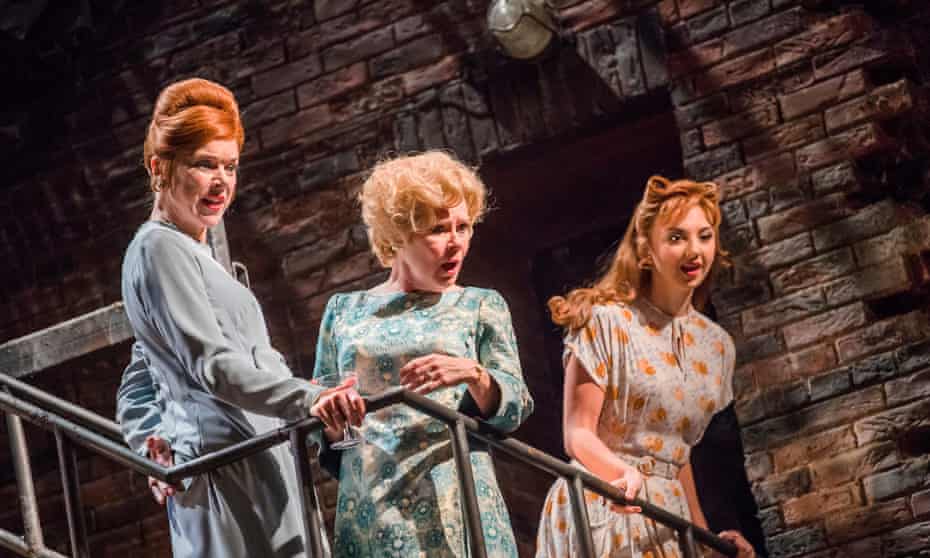 We've finally arrived at album number six: the 2018 London revival cast album. This production stars Imelda Staunton as Sally, and what a Sally she is! Actually, this whole cast is once again amazing. Philip Quast's performance of "Live, Laugh. Love" was the first version of this song to break my heart (in a good way). Janie Dee, Peter Forbes, Tracie Bennett… they're all here and they're all great. I also quite enjoyed the overture on this album. The score here is much closer to the original Broadway production than the original London. But overall, it was the most satisfyingly coherent. In fact, it rivals the original London and Paper Mill Playhouse cast albums for my favorite of the six.
Of my three finalists, I have to give it to the 2018 London cast album. First, it's the shortest of the three. And second, Staunton's Sally is truly breathtaking. This was a close one. It's easy to see why this is arguably Sondheim's best work. Each production was cast perfectly and that's reflected in each album. Overall, I say Follies has more than earned its reputation as an iconic piece of musical theater.
Musical: Follies
Music and Lyrics: Stephen Sondheim
Opening Performance: April 4, 1971, Winter Garden Theatre, New York City
Cast Albums I Listened To: 1971 Original Broadway Cast, 1985 Lincoln Center concert cast, 1987 original London cast, 1998 Paper Mill Playhouse cast, 2011 Broadway cast, and 2018 London cast.
Highlights: "The Road You Didn't Take," "Who's That Woman?," "I'm Still Here," "Could I Leave You?," and "Losing My Mind."
Favorite Cast Album: 2018 London Cast Album
Overall Impression: Follies is still a weird show, but it's a weird show with a gorgeous score and a knack for great casting. Those last two points make the perfect recipe for excellent cast albums, of which Follies is blessed with six.